Gravel Doctor® Opportunities Available
Driveway Repair Made Easy with The Gravel Doctor®

The Gravel Doctor System Is So Efficient That Most Of Our Gravel Doctors Regularly Make A $1,000.00 A Day Or More !
A driveway 100 feet long by 10 feet wide can be completed usually in less than an hour. My minimum charge is $ 442.10 plus tax. It takes approximately 20 minutes to unload and load the equipment. That translates to approximately 4 jobs a day if the travel distance is no more than 45 miles.
This pricing is very competitive based on the fractured limestone cost of:
$15.00 per ton plus a minimum delivery fee of $85.00.
So a 25 ton load of limestone would be $460.00 plus tax.
These prices can be adjusted relative to the stone costs and delivery prices in your area. The larger the area the cheaper the price per square yard.
The Gravel Doctor is also a great add-on to any landscaping business. It's time to take control of your future and become your own boss.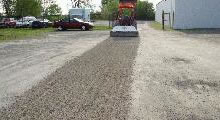 START NOW FOR A LIFETIME OF SUCCESS
For more information on the Gravel Doctor business opportunity, click "contact us" or call 607-545-6845.
Simple Process
Extraordinary Results
Opportunities Are Available All Across North America !
ROCK SOLID OPPORTUNITY
The only business that gives you the basis for a lifetime of job security is your own.
As an independent business owner, your Gravel Doctor business provides the solid foundation you need to build your own successful enterprise and enjoy a more secure future.  The Green Technology industry is booming. Consumers want responsible alternatives, and smart investors are taking advantage of lucrative opportunities in this growing market.
The Gravel Doctor combines low equipment capital and operating costs with a proven start-up package including training, references, m
arketing & operating materials – virtually everything you need to build your business and enjoy success on your terms.
BUILD ON MARKET TRENDS AT EVERY LEVEL
Consumers choose Gravel Doctor for a cost-effective, environmentally-aware alternative to traditional driveway surfacing methods. Existing gravel is renewed and reused to save time, save resources and save money. This growing focus on Green technology directly mirrors today's existing market trends.
Economically, your Gravel Doctor is a viable investment on global, national, provincial and local levels. Your business is poised for success in current and future markets in the categories of maintenance, restoration and grooming of all-natural and crushed surface materials. This opportunity allows you to reap the financial benefits of providing a unique, affordable and environmentally responsible service to a stable niche market.
THE CHOICE OF BUSINESS EXPERTS 
Gravel Doctor is endorsed by Ted Baker, Executive Director of Innovation Connector. As a former business owner in both manufacturing and retail sectors, and Director of Indiana's "go-to" resource for new entrepreneurs and start-ups, Ted has a keen eye for success and sees nothing but potential in the Gravel Doctor:
"The Gravel Doctor 'product' is a unique process that seizes a need in the marketplace. For the customer, their process provides a lower cost and practical alternative.. For the Gravel Doctor licensee, their process provides a business opportunity with a high return on investment and a quality product that a business owner can be proud to provide."
"The Gravel Doctor is a Unique and Sound Business Opportunity"  –  Ted A. Baker, Executive Director
THIS IS YOUR GRAVEL DOCTOR BUSINESS
This is not a franchise. As a Gravel Doctor, you own the business and have the "exclusive" Gravel Doctor Rights to your area. You have your own Gravel Doctor web site connected to the Gravel Doctor web marketing system ! YOU can become a Gravel Doctor TODAY !
In addition to your revolutionary Gravel Doctor machine, you will receive a comprehensive start-up package. Your investment includes a five day training program covering machine operation, quoting and the engineering theory of driveway, roadway and parking lot construction. You'll also receive reference materials, advertising copy samples, TV commercial, press release, industrial environmental video presentation + OHSA, quote form sample, design & engineering reference material and a "Getting Started" plan.
THE WORLD'S PREMIERE GRAVEL MAINTENANCE SYSTEM
Drop us a line anytime, and one of our customer service reps will respond to you as soon as possible